WordPress– the most powerful and popular CMS application used by millions of personal blogs, eCommerce, and corporate websites around the world. A WordPress website builder is valued for its versatility and simplicity.
The platform is widely known for its ease of use, flexibility, a vast library of premium and free themes and plugins. It is the only website builder where you can make the best use of the features and establish a strong online presence with a professional website.
If you have decided to start your online business through WordPress, you will need to go with a hosting. Finding the best hosting for WordPress is a conflicting process nowadays not only for the abundance of hosting providers but also because there always remain the questions of trust and reliability.
A good hosting provider ensures the best performance, seamless website growth and increases sales. Depending on the service you can enjoy several websites-friendly features, page caching, automatic data backups, CMS updates and more. Although most of the hosting providers offer these advantages, you don't get the appropriate results at the end.
Many service providers claim themselves specialized for WordPress which is not authentic at all. If you purchase the wrong hosting service, you will not only get an unresponsive website, but it will also badly affect your audience, search engine rankings and most importantly sales.
With so many hosting providers and alluring offers out there, selecting the perfect services for your business may take time. Let me help you get out of this problem. It's time to talk on the best cheap WordPress hosting providers that are specialized in establishing a strong online presence and ensure business growth.
How to choose the best hosting plan for WordPress
There are several things you need to understand before selecting a hosting service for WordPress website:
Billing System
Let's talk about the advantages of going with a monthly billing hosting provider first. When you choose a yearly plan, your money and you become locked for a longer time. While migrating your website before the plan expires, you hardly have the chance to get a refund.
But with the monthly hosting service, there is no compulsion. You can switch your website to any hosting without losing the amount.
SSL Certificate
Make sure the web hosting you are purchasing offers an SSL certificate (https://). The search engine already announced the signing of an SSL certificate for website security and ranking. Although almost all the providers offer SSL certificate, sometimes you may hit with hidden charges.
As a website owner, you must understand that SSL certificate comes for free (in most cases) with web hosting. Those who are less familiar with hosting services may lose a lot of money while paying for SSL certificate. Make this clear that the company you are going with does not charge you additional fees.
Customer Support
Reliable web hosting always offers excellent customer support. There are many complex processes on web hosting which you can't solve yourself. Such as, when your website is attacked by hackers. You have nothing to do except contacting the customer support team. The professional team not only brings the solution but also instruct you to solve the problem in the best possible way if it occurs in the future.
Best web hosting ensures you do not worry about your website backend. They are responsive and knowledgeable to solve a problem in the shortest possible time. So, seek for the hosting that provides 24/7/365 on-time support.
Features and Pricing
When you are with WordPress specialized web hosting, your website should run more smoothly than in the other environment. Before purchasing a web hosting service, you should look for the essential features that double your website performance. The features you should consider monthly data transfer advantages, email storage, bandwidth, site backup, restore facilities, spam protection, 24/7 support, etc.
The best WordPress hosting should not exceed $15 per month. Though there are many web hosting that charge more than the amount per month with additional features, you won't require those advantages for small websites.
Uptime
The aforementioned factors are essential for the best web hosting experience, but there is nothing to compare with site uptime. If you are familiar with the online business, then you must know the importance of maximum uptime of your website.
If your website is down for any technical issue, the customers won't find you or access your business which can cost you a loss of million dollars. That will be the worst nightmare for a business owner.
So, make sure your web hosting assures you for keeping your website up and running. Sometimes, a website may down for maintenance, but make sure the percentage of average uptime always remains within 98%.
Best & Cheap WordPress hosting services
Based on the key factors, we have listed the top 5 hosting providers of 2018 that specialize in WordPress hosting. Before getting into the details of each hosting service, here are the key details of the hosting:
WP Engine: Comes at minimum $35/month (wait! what?). Provides unmetered bandwidth and minimum 50GB storage.
Bluehost: Charges $2.95/month. Offers unmetered bandwidth and 50GB storage.
SiteGround: Comes in $3.95/month, unmetered bandwidth, and unmetered storage.
InMotion: Starts at $7.26/month for 2 websites. Allow you to enjoy unmetered bandwidth and unmetered storage.
HostGator: Charges same as SiteGround ($3.95/month). Provides unmetered bandwidth and 10 GB storage.
Let's find out which one will be the best for your website?
WP Engine
WP Engine is the only web hosting company that absolutely focuses on WordPress websites. Focusing only on 1 hosting service, they are constantly growing their services with innovative technologies and flexible features.
Yes, WP Engine has been expensive, yet you will ultimately get the advantages that you are paying for.
Having a strong prevention system, WP engine blocks any brute force attacks, DDoS attacks, JavaScript/MySQL attacks and more. Customers can enjoy a number of premium safety features. They have a generous 60-day refund policy. The professional support team will assist you all the times of the day. Based on the priority of your issues, you can contact them over the phone, live chat or via Email. The team is so helpful that you will be thankful for their service.
Key Features
Uptime: 99.94%
Load Time: 582ms
Customer Support: 8/10
Pricing
WP Engine offers 3 attractive WordPress hosting plans. The StartUp plan comes at $35/month. Growth costs $115/month, and Scale charges $290/month.
The features include a free domain, hosting service for a minimum of 1 website, a domain that is suitable for a minimum of 20,000 visitors per month, 40GB SSD storage, unlimited bandwidth, and unlimited email accounts. If you switch to the upper plans, you will get access to premium themes and plugins, and free dedicated IP.
---
Bluehost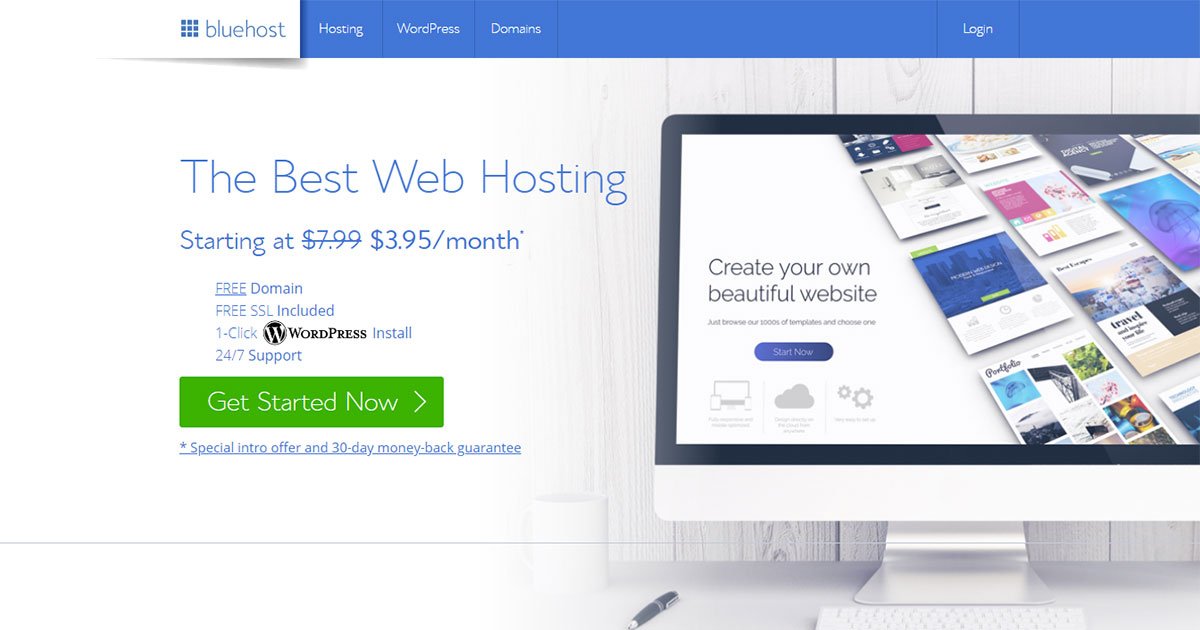 Bluehost is the best option for long-term businesses. It is one of the most popular web hostings and there is nothing to make the second option to rely on them. The platform is recommended by wordpress.org which makes it reliable.
Bluehost is mostly known for its innovative solutions, the cheapest rate, and outstanding service. It offers an intuitive dashboard and complete access to manage your setup and all the features you need to create a professional website.
More than 2 million websites worldwide are powered by Bluehost. The superb thing about this hosting is, it offers 30-days money back guarantee which means you will get a full refund if it doesn't suit your website. Also, you can migrate to the others hosting services whenever you wish to.
You will get a free domain with the purchased plan and get access to free website builders and 1-click WordPress installations. Bluehost provides 24/7/365 support. In my opinion, the support team is very responsive and knowledgeable.
Key Features
Average Uptime: 99.99%
Load Time: 419ms
Support: 10/10
Pricing
Bluehost comes with 3 different plans. Basic, Plus, Prime. The Basic plan costs $2.95/month. Both Plus and Prime pack starts at $5.45/month while Prime plan costs $5.45/month.
With the plans, you will get hosting service for minimum 1 website, 50 GB of SDD storage space, unlimited bandwidth, Sitelock CDN, 1-click WordPress installation, 5 Email accounts, unlimited MySQL database, 24/7 support over the phone, live chat and via Email ticket. Of all the hosting service out there, Bluehost is the cheapest and customer's favorite.
---
SiteGround
If you are looking for an affordable web hosting that includes all WordPress features, you can go with SiteGround. It has built a solid reputation in the hosting industry since it started. SiteGround has become succeeded in gaining immense popularity for its great uptime and high performance.
Thankfully, SiteGround provides WordPress hosting on all plans so you don't need to make any updates and installations for your side, all the tasks are managed by them.
SiteGround comes with complete packages including awesome features for the best management of your WordPress website. Every package has amazing drag and drop interfaces, so you can create a gorgeous looking website.
The hosting provider runs their operation from 3 different locations so there is nothing to be worried about your website performance. Based on your location, you can choose the nearest data center for the best performance.
SiteGround offers 30 days money-back guarantee and allows the customers 24/7/365 customer support.
Key Features
Uptime: 99.98%
Load Time: 722ms
Customer Support: 10/10
Pricing
Siteground has 3 different packages. The StartUp plan comes at $3.95/month. The next 2 plans GrowBig and GoGeek charge $5.95/month and $11.95/month respectively.
The features include hosting for a minimum of 1 website, 10 GB SDD storage space, WordPress installations and updates, Cloudflare CDN, automatic site backup, unlimited Email accounts and MySQL database, bandwidth for up to 10,000 visitors per month, and more. You can purchase a plan based on your business requirements and upgrade later.
---
InMotion Hosting
Like the other hosting, InMotion Hosting also offers pre-installed WordPress features which means you don't even need a single click to install WordPress. The Los Angeles based web hosting company is mostly known for outstanding server quality and excellent customer support.
One nice thing is that InMotion allows the users to manage 2 WordPress websites at the same time with the cheapest price. Here the hosting is exceptional from the others. Check out the other service companies and you won't find a single organization that offers a hosting service for 2 websites at the cheapest rate.
InMotion lets the customers enjoy real-time redundancy, free domain name registration, free server management for updates & patches, a free SSL certificate for secure and super-fast hosting. By purchasing their service, you will get access to the security suite that includes free automatic backups, hack protection, and DDoS protection. Their 90-day money-back guarantee has made them on the recommended hosting in the marketplace. In a word, InMotion is easy and quick.
Key Features
Uptime: 99.91%
Load Time: 752ms
Customer Support: 8/10
Pricing
Inmotion is slightly expensive. The minimum price is $7.26/month and the maximum is $119.28/month. However, their services justify the amount.
What are the advantages can you enjoy with InMotion? Well, they have unlimited SSD storage, which makes a WordPress website 20 times faster, unlimited bandwidth, daily website backup, 2 MySQL databases, unlimited Email accounts, Softaculous 1-click installer and lot more.
---
HostGator
Those who offer cheap and reliable hosting service, HostGator is one of them. It is considered one of the biggest companies in the world. HostGator allow the customers to build a professional website with fantastic tools. HostGator ensures for your website's efficiency and it will be 2.5 times faster than the other sites.
The platform offers low-density servers, multiple caching layers, CDN (Content Management System), and supercharged cloud architecture. HostGator has made the CDN easier, more comfortable and efficient. If your WordPress website is the only income source, you can switch to Hostgator safely. It will assist you to boost your website's traffic, keep regular backups and manage multiple sites at the same time.
HostGator ensures a super-fast and responsive site that defends intruders and hackers. By signing up, you will get 45 days money-back guarantee which is absolutely awesome.
Key Features
Uptime: 99.96%
Load Time: 462ms
Customer Support: 9.5/10
Pricing
Hostgator's WordPress cloud hosting includes 3 attractive plans. The Starter Plan comes at $5.95/month while Standard Pack costs $7.95/month and you will have to spend $9.95/month if you want to go with the Business Plan.
HostGator offers a hosting service for a minimum of 1 website. The superb thing is that HostGator offers unlimited non-SDD storage space. Besides, weekly website backup, unlimited Email accounts, cPanel (control panel), unlimited bandwidth, and 24/7 customer support services are available with the plans.
---
Wrapping Up- Which of these Cheap WordPress Hosting Should You Use?
As you can see, each of the above hostings is unique in their own way. So when it comes to cheap WordPress hosting, it is complicated to say which one you should purchase. I have highlighted all the conveniences and now the decision is up to you.
However, if you have the expectation to know my option, I will suggest going with Bluehost as it has something for the business of all aspects.