In the continuous battle of web hosting companies, there is constant competition reaching the top position. Smaller web hosting companies are still struggling to survive in the competition, while the renowned companies are striving for retaining the superior position. Everyone claims that their services are the best in the market, which is actually nothing.
The quality of a web hosting company can be considered based on customer reviews. Customers' rating is the most reliable way to consider the quality of a hosting company before you are a user of them.
In the previous articles, I have discussed the renowned hosting companies based on their service, support, and performance. Now it's time to talk about another web hosting giant- HostGator.
Company Background
If there's a name with the complete web hosting service in the market, it's HostGator. It's one of the largest companies in web hosting services. In the world of hosting companies, if there is a name that comes with more frequency than the others, the name will be HostGator.
This Houston based hosting company has been in the web hosting field for more than a decade and mostly known as a shared web hosting provider. It was founded in 2002 by Brent Oxley. Now the company is owned by Endurance International Group, which also owns several web hosting giants.
When we go through the background of a hosting company, the foremost thing we want to know where the data centers are operated. It is because the location of data centers has a significant effect on server response time.
Based on the users, HostGator is conducting its data center operations from Houston, Utah, and Provo. The company has been awarded in 2015 and 2016 for the "Best Web Hosting" by Hosting Advice, PCMAG, and WP beginner. After 16 years of successful journey, the company host domains for over 400K customers.
HostGator provides decent VPS and dedicated options if you want your website to scale. The company comes with a complete suite of plans for both high and low budget. HostGator offers plenty of features and options and adds value to the services more than you pay.
The good news is you don't need to control the admin system, HostGator will do the task. The company is becoming popular day by day for their extensive customer support, uptime, hosting functionality and much more.
Shared Web Hosting Plan
From site-building features to application installers, everything you required to build a professional website will be found at the Shared Web Hosting plan. This plan is great for beginners and new investors.
A Shared hosting plan will help you set up your website easily, so you can focus more on getting traffic for your business. Believe it or not, you will get unlimited bandwidth with just $2.75 per month!
Surprisingly, shared web hosting provides built-in SEO tools so you don't require additional plugins for your website SEO.
Like the other hosting providers, HostGator doesn't insist you sign up for a year. They believe in customer satisfaction and the plans are made thinking of the customer's demand.
With the other hosting, most of the companies offer Linux-based hosting. But the good news with HostGator is, the company offers both Linux and Windows-based hosting services.
---
Cloud Hosting Service
With the availability of all hosting services, HostGator also offers Cloud Hosting services. With cloud hosting, you can easily scale the resources and your website isn't limited to server constraints.
Cloud hosting will offer a cloud caching solution, resource management capabilities, and intuitive dashboard. Starting the price from $4.95 per month, you can take control over unlimited domains, up to 6 GB Memory, 6 Core CPU, and free SSL certificate.
In addition, the hosting helps to migrate all website data to another server without failure and the website is hosted across a couple of devices that ensures high redundancy and safety.
---
WordPress Hosting
Having low-density servers, CDN, supercharged cloud architecture and multiple caching layers HostGator's WordPress hosting is 2.5X faster than the other hosts. It will make your website content management system comfortable and more efficient. WordPress is very easy set up on the hosting even if you don't use the managed-WordPress route.
The plan offers three web hosting packages: Starter, Standard, and Business. If you only have a WordPress Website and you depend on the website's income, then WordPress hosting is right for you. All the packages have discounts with every feature enabled. With the hosting, you can scale your website traffic, manage multiple sites and keep regular backups up to 3GB.
All the plans come with an optimized WordPress hosting environment and page caching. Ultimately, you are getting a super-fast and responsive site that is secure against intruders and hacks.
---
Reseller Hosting Solutions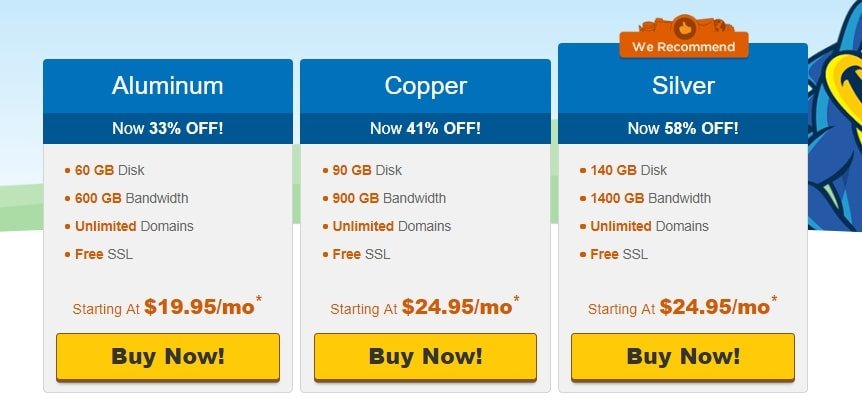 Reseller web hosting is suitable for large businesses and enterprises. The plan will give you complete control over every aspect of your business.
Reseller hosting is ideal if you want to make money with hosting business. The hosting will allow you to create your own website to avoid worrying about the costs of software, server maintenance, uptime and more. The plan is perfect for organizations that offer IT solutions to customers. It lets you promote your own brand and receive ongoing profits from your customers. Unlimited POP3 Email accounts, Webmail access, and 24/7 tech support are a plus.
---
VPS Hosting
Starting at only $29.85 per month, HostGator provides Linux based VPS hosting service. If you are expecting high traffic volumes, need more power and specific compliance requirements the, VPS option is a nice option to consider.
Basic VPS hosting plan, Snappy 2000 offers 2 Cores CPU, 2 GB RAM, 120 GB disk space and unbelievable 1.5 TB bandwidth. The mid-tier plan, Snappy 4000, boasts 4 GB RAM, 165 GB disk space and 2 Cores CPU. The advanced Snappy 8000 pack offers the most facilities with 3 TB Bandwidth, 4 Cores CPU, 240 GB Disk Space and 8 GB RAM that will help you manage the system with blazing fast speed.
---
Dedicated Hosting Server
Most of the individuals prefer dedicated web hosting but can't afford them due to its high prices. Comparing to the other hosting companies, HostGator's dedicated hosting is cost-effective and reliable. They claim the plan- ultimate and the package worth it.
The plan comes with a fine set of options. Customers can easily customize the servers, get up to 32 GB of RAM, 1 TB of SSD storage and unlimited data transfers. With the maximum performance, you will have the full system resources and their IP-based firewall will keep your website performing optimally and safely.
The data center located in the USA and there is nothing to worry about Speed and Uptime. The host boasts 700 articles and 500 video tutorials that will help you manage the system efficiently and get help for every issue.
---
Website Domains
Really, HostGator is a one-stop-shop for hosting and domains. They offer a bunch of domain names at an affordable price. You don't need to register for another website to purchase domains. By purchasing domains from HostGator, you will get Domain Renewal, Domain Locking, and Easy management for Free.
You can prevent your website from unauthorized transfers and the domains are auto-renewed after the validation period. You can run the system at ease.
Conclusion- Is HostGator Reliable To Use?
HostGator offers convenient support to users. You will get 24/7/365 support over the phone, email and live chat. The agents are knowledgeable and helpful enough for solving a problem. Website migration is free and the server guarantees 99.9% uptime and smooth performance.
Thankfully, HostGator offers 45 days money-back guarantee so that you can use it safely. As they have plenty of web hosting programs, I'm sure one of the plans will definitely suit your business.
I love the platform as it offers to make money through the affiliate program. By referring a friend, you can earn commissions. Besides hosting services, HostGator offers Web Design services.
After your website went live, they will help you increase your visitors and business ROI through SEO and PPC. Aren't these facilities enough to purchase their one-stop-shop services?