Probably you are searching for the most popular and best WordPress themes available on the web. When we usually made up our mind to create a new website for our ongoing business solutions or any other services, one of the first things we need to think about is how our site is going to look. Because providing high-quality content can engage the audience.
Engaging more audience is not easy stuff, you have to consider many issues including responsiveness, site speed, usability and more. In this case, you may choose WordPress, the best platform and maybe the first choice to power your website. WordPress is awesome being a free and open-source solution, it offers plenty of resources – free plugins, free themes, and more. It is time-saving, highly organized and reliable, and powers over 35% of all CMS based websites online today.
Though there are thousands of WordPress themes available on the web which are completely FREE, you may face lots of limitations including poor design, poor support, fewer features. A FREE theme surely saves you some pennies from the budget, but if you want to create a full-fledged compelling website, free stuff may not be a good idea.
On the other hand, a premium theme costs you around $50 that's not a big amount for a complete website. Moreover, you will get theme documentation which includes instructions on how to use it. Most of the authors provide dedicated support so that your issues and queries are instantly solved. And, there are also plenty of other resources like blogs, tutorials, videos, etc. that are useful to you.
In the following paragraphs, we're going to brief a short review of the most popular, premium, and best WordPress themes that will help you to choose the themes that best fit you.
Category: Multipurpose
Pricing: $89/year for Subscription (all themes included)
Provider: Elegant Themes
Divi is an ultimate and one of the top WordPress themes and Visual Page Builder defining by itself and rightly so. It is probably one of the best page builders we've seen so far. No matter what and how you want your page to represent, Divi helps you create your dream website just by clicking on it, dragging and dropping. Moreover, Divi comes with 20+ premade layouts that fit for any website. It is possible to import/export a layout with Divi which will let you start working the second and you get the website as you desired.
---
Avada is probably one of the most customizable and top WordPress themes available on the web. The number 1 selling WordPress theme fit for every purpose imaginable. You do not require any coding knowledge while using Avada. It is an all-capable easy-to-use theme that is possible by including 3 native plugins, Fusion Builder, Fusion Theme options and Fusion Page options. The theme also comes with WooCommerce support and plugin.
---
BeTheme is a highly optimized, responsive and top WordPress theme that you can use for constructing a beautiful and fully functional website. If you do not have enough time to create your website from the scratch, you do not need to worry about that, because BeTheme comes with an insane number of 300+ pre-built website designs, and you can just select one from this feature-rich designs. The amazing functionality of BeTheme helps you attract more visitors without compromising the usability and responsiveness of your website. It integrates a Drag & Drops page builder which is a huge help for many website admins who hate working with text shortcodes.
Category
Corporate | Business
---
Enfold is a minimalist, bendy and top WordPress theme out there that enables you to build an eye-catching website in a jiffy. Enfold allows you to construct a perfect website with its exclusive Drag and Drop Template Builder and distinctive layouts by simply dragging and dropping your content into place under the time span of 2 minutes. With Enfold you have an option to choose from 18 predefined skins.
Category
Corporate | Business
---
X | The theme comes with one of the most powerful page builder plugins available to WordPress users that lets you instantly change the theme of your website to fit its purpose with just a click of a button. With over 26 native plugins making sure that you don't need to add any more plugins for your website to function efficiently.
Category
WordPress | Miscellaneous
---
The Newspaper is a highly rated WordPress theme, developed for Blogs, Magazines, Articles, and moreover news-based websites. This top WordPress theme distinguishes itself from others by integrating a page builder specially made for news and magazine contents, a front end live editor and an immersive landing page builder. The drag & drop builder requires no prior coding knowledge. This premium WordPress theme is highly optimized, with over 100 handcrafted elements for web page designing. It is elevated from a business perspective as well since it comes with efficient Adsense and banner ads with over 14 predefined and 5 custom spots.
Category
Blog/Magazine | News/Editorial
---
Jupiter is a powerful multipurpose and top WordPress theme with extensive features and endless customization possibilities. The theme is suitable for creating websites for multiple niches including corporate, business, eCommerce, store, food, restaurant, university, non-profit and church sites. With 160+ highly customizable, handcrafted and pre-made website templates, 18+ pre-made header style, 100+ elements Jupiter became one of the best WordPress themes in today's market.
---
The Bridge is a powerful multipurpose WordPress theme featuring a modern and professional design. It includes 370+ completely beautiful website designs for multiple purposes. You can build any site within a short span of time while choosing Bridge for your website. Tons of powerful and highly flexible elements and practical options make creating your dream website simple and fun.
---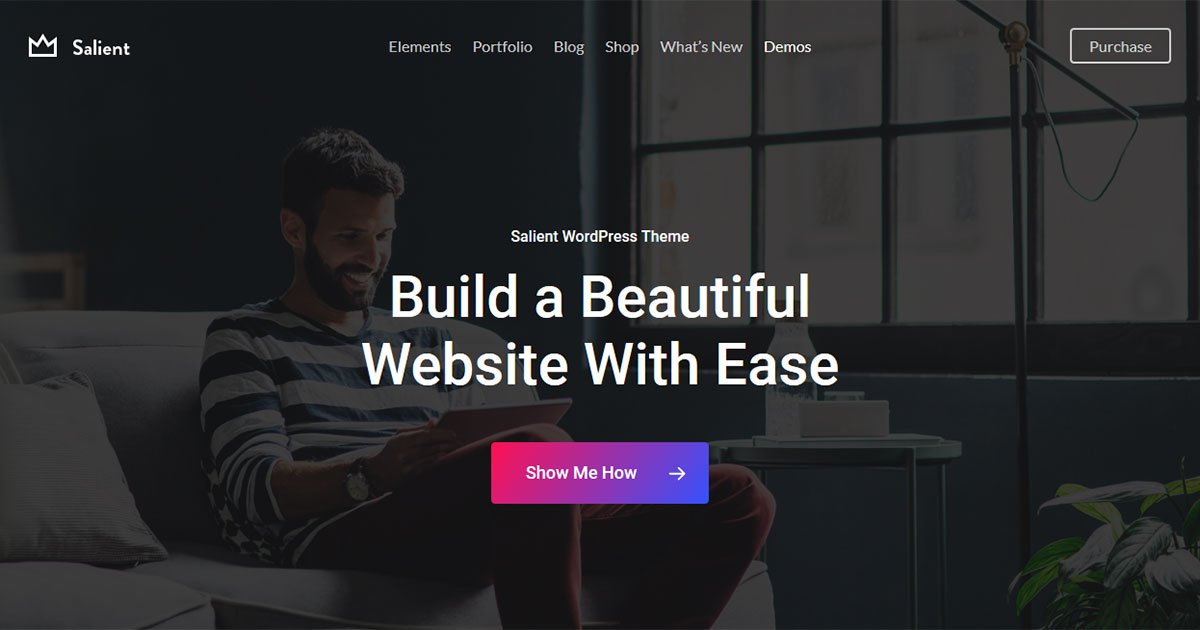 Salient is another powerful multipurpose top WordPress theme with a modular approach to design. It comes with several turnkey website designs, more than 200 that you can install with 1-click. With Salient you will gather experience a level of quality both design and customization options never before seen in a WordPress theme. You can also just drag and drop modules to create your own layout.
Category
Creative | Portfolio
---
Flatsome is a multipurpose responsive and fastest WooCommerce theme on the market. This truly versatile and top WordPress theme includes all the options that you'll actually use, perfect for e-commerce websites, blogs, businesses, and magazine websites. It includes 300+ predefined layouts and sections. With Flatsome you will get a custom product page builder to create completely custom product page layouts.
Category
eCommerce | WooCommerce