Today, we will talk about the Flatsome theme review. If you are about to start an online business or introduce your business as an e-shop, you will require a highly customizable eCommerce theme for your website. Finding the perfect theme for a website is never easy. And when it comes to choosing a theme for the eCommerce shop, the job becomes more crucial. Nowadays everybody looks for cheap and best. But there are thousands of templates out there who claim themselves as the best service provider.
So, what should you do? Should you give up finding a template? Of course not. We are going to show you the light of hope in this post which will definitely assist you in selecting the best template for your website.
Among all the themes out there, Flatsome is one of the most popular WooCommerce templates in the marketplace. Flatsome is a beautiful eCommerce theme which is dedicated to the WooCommerce industry and combines the best trends in online store design and also supports all other niches as well.
If you expect to create an eCommerce store to your WordPress website, this theme will be superb. With the versatile template, you can design and set up all the products within minutes. The amazing fact of Flatsome is that it allows the users to design their posts and pages from the front end and you don't require to redirect your customers to another source.
In this review, we are going to detail the main features and discuss why the template worths using.
About Flatsome Theme
Flatsome, which is a responsive WooCommerce theme is inspired by modern online business designs with a mobile-first approach. The template is developed by a power elite author UX Themes in September 2013, has been sold over 82,000 times on ThemeForest, and earn 4.80 average ratings till date. If you are running WordPress 4.8/4.9+ and WooCommerce 3.4/3.5+, then you can use the latest version of this template (which is 3.7.1 till date) smoothly.
The goal of the template's creator was to create a theme that will come with high functionality and easily customizable options. And the purpose for which they have created the theme has been very successful. Flatsome allows the users to choose from the pre-made layouts and ton of custom tweaks. You will love Flatsome features which include the live search for products, unlimited forms and "wishlist", sticky headers for easy navigation, highly shopping functionality, etc.
To ensure purchases both from Desktop and Mobile, Flatsome provides full responsive features. Even the smallest details of this template are taken care of. It is the perfect theme for your online shop, business website, or an agency. From the business page to the agency, the WordPress theme looks clean, stunning and elegant.
Like the other themes out there, Flatsome has DIY features with endless options too. That means you can create anything without having comprehensive skills in coding. This multi-purpose template has extensive plugin compatibility and all the tools which require to create a super-fast responsive website with the incredible user experience.
Would you like to watch very shortly, how to start with Flatsome? Let's dive into the main topic of this post which is about Flatsome theme review.
Category
eCommerce | WooCommerce
Flatsome Theme Features
Flatsome is a theme that comes with a list of long features. Here in this Flatsome theme review, we will discuss all, especially the important features in detail.
WooCommerce Features
With the Flatsome theme, it's very easy to find a product with the Live Search option. As a result, visitors can instantly see the results when searching for a product and easily go through the product details that catch their eye.
Most eCommerce templates offer a standard layout for product pages while Flatsome allows the users to completely customize the individual product page in their own way. Flatsome has 3 types of layouts available to present your showcase which are Grid view, List view, and Masonry view.
Regarding the checkout page, Flatsome ensures the highest security to keep the customer's information private. It offers different styles to design the checkout page. If you want your customers to view your products only, you can enable the catalog mode which allows you to show or hide prices and add custom HTML components as a replacement of Add to cart button.
With the other eCommerce themes, many times the users have to resize every product image several to turn them into a standard size. But with Flatsome, there is no such problem. All you have to do is, define a standard size for products to resize all the images at a time.
Additionally, you can allow the customers to have a quick view of your products, details, and price without browsing the individual product page. This will save valuable time for your customers. Thus, they will love to come back to your website again for purchase.
Flatsome Theme Design and Style
Flatsome is primarily designed to integrate with WooCommerce and run an eCommerce site but it can be used as a multipurpose theme. With an elegant, clean, and responsive interface, the Flatsome theme offers you a multitude of options to customize every part of your site that behaves the same on any screen device.
Regardless of the visitor's devices, the UX Themes have built Flatsome template to focus your customer's attention on the shop itself. It combines a clean and structured grid with the stylish architecture and unique look that will assist you to create a professional-looking eCommerce site.
With Flatsome, you can present your website in several ways like in full width, framed or boxed layout to generate different visual concepts. Thankfully, you can control the entire website design in pixels.
With the tonnes of different customization options, you can bring possible changes at ease and make your website look stunning within minutes. No matter which design you are finally using, every visual remains device-ready, minimal, and responsive to perform efficiently on all the devices.
Predefined Templates
The Flatsome WooCommerce Theme has a large online library. It offers over 300+ predefined layouts and sections to choose from and insert into your Flatsome site. Therefore, your expectation won't be wrong if you assume Flatsome has the perfect layout for you no matter what your business is.
Performance
As we are talking about Flatsome theme review, we must analyze the theme's performance. Flatsome is one of the fastest WordPress themes on the market. The developers have really done a pretty good work in optimizing the theme for a superb performance. While we test the performance in GTmetrix, we got 98% page speed of Flatsome theme. Therefore, Flatsome can offer your customers an incredible user experience.
SEO Friendly
The theme has been built with SEO best practices in mind. Thus, it follows the W3C validation structure that ensures maximum possible performance SEO compatibility. While using the Flatsome theme, users don't need to take the additional hassle to optimize their website for SEO. Instead, I can say it will make the optimization task easier than the other themes.
Page Builder
Let's move to the next aspect of Flatsome theme review. Flatsome has an incredibly easy to use live page builder with a large element library to build anything as you wish. Crafting a webpage with the Flatsome template from scratch is super easy. Even you don't need to be tech-savvy for this.
After installing the template, you will get access to a bunch of elements to efficiently customize your website. The elements include pages, testimonials, portfolio, video button, price table, image box, scroll to, section, and more.
You can create sliders and image grids right from the Flatsome page builder where you won't require installing additional plugins. Flatsome will give you the facility to customize every single detail while simultaneously seeing the result. Also, you can style and design your own header with simple drag-and-drop elements.
Additionally, with the live Header Builder, users can see the changes in real-time while configuring the features. In a word, everything that is needed to create a well-designed e-shop website is available there.
Elements
If you're searching for a WordPress theme with tons of functionality, Flatsome should definitely be around the top of your shortlist. It has a large element library to built anything without any coding required. Each of the predefined themes of Flatsome is crafted to create a shop and start selling products right away. You can set up any of the templates with a single click.
Plugins
Flatsome comes with a number of different plugins with incredible features that you need to make your shop a success. The template allows the users to use Ninja Forms, Nextend Facebook Connect, Regenerate Thumbnails, WooCommerce (of course), Taxonomy Metadata, WP Instagram Widget, YITH WooCommerce Wishlist, WooSidebars, Ajax Search, and so on.
Theme Options
The next point of Flatsome theme review is Flatsome Studio. It is the updated version of theme options and it can also disable from the theme panel and loaded externally so it's not bloating the theme.
With the live theme options panel and drag and drop header builder, it is possible to set up a site much easier than before. With the built-in visual page builder and predefined demo contents, your shop can be live right away. Also, the shortcodes of Flatsome are very easy to understand which makes a professional designer's task even much easier.
As you can design in your own way, so there is no chance that anyone is going to create a site that looks exactly like your website.
Flatsome Theme Flexibility
The UX Theme developers are constantly working with this theme to make it extremely flexible. As all the design features are available in Theme Options Customizer, you can make all the adjustments from the front end. The customizer panel has a bunch of options like layout, homepage, header, shop, style, share, footer, and other elements. Even if you want to turn back from an existing design, the customizer has a Reset option too.
Miscellaneous Features
Apart from the main features, the Flatsome theme comes with many more features that you can use. Let's have a look:
Custom Product Page Builder
700+ Google Fonts Available
WPML Support
Customer Showcase
Mobile Optimized Design
Unlimited Footer Options
Built-in Slider & Banner
Drag & Drop Image Grid
Full Typography Control
Smart Image Lazy Loading
Unlimited Product Page
Beautiful My Account Page
Demo Content and Childs Themes Available
Quick add to cart option
Rich snippets properly optimized
Flatsome Theme: Documentation & Support

There is extensive documentation available for Flatsome. The articles are on the major and most common issues of the template. For instance, how to set up the Flatsome template, use the elements to design a website, configure the basic options, troubleshooting, etc. Each of the features is described with step by step instructions.
If you don't like to read too much, Flatsome has alternative options for you. There is also a growing collection of video tutorials available on their YouTube channels. Flatsome offers excellent customer service to provide you with real-time assistance. You will get six months of premium support through ThemeForest while purchasing Flatsome. If you require real-time assistance, you can join their Facebook community too.
Pricing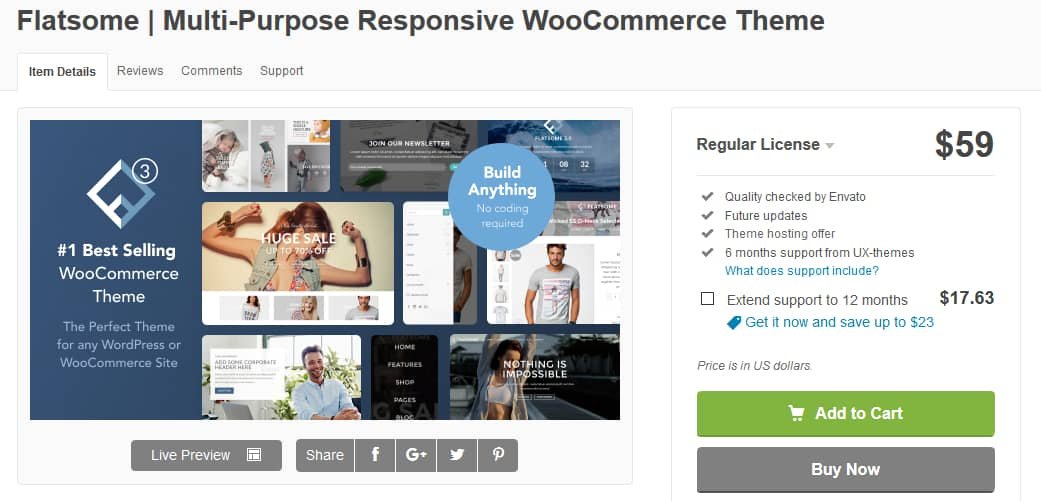 After going through the Flatsome theme review, if you are wondering how much does the versatile template cost, let me mention the price too. The Flatsome theme is available at ThemeForest only at $59. With a lot of features and integrations, the template worths purchasing. Of course, I recommend availing Flatsome template not only for an eCommerce website but also for other purposes. Whereas so many users rely on the theme for their website, why don't you?
Flatsome Theme Overall Score
After detailing all the aspects, we would like to give Flatsome overall 4.6 out of 5 according to the following criteria:
Final Thoughts
Purchasing Flatsome theme will be one of the smartest decisions when it comes to design a website. If you want an extremely versatile theme that will allow you to design anything you wish, then you should go with the Flatsome WordPress theme. It has a lot of control options and the newer version of this theme is now more intuitive, user-friendly and well optimized.
Obviously, there are lots more to this awesome template than just the customization options and responsiveness. To create a professional-looking website with amazing features, you must purchase the template and it won't disappoint you.
So what are you waiting for? Check Flatsome theme now!