Having a nice time after setting up a WordPress website, installing a perfect theme and initial plugins? Do you think all of your website tasks have been done? Wait, there are still some vital aspects you need to consider here. Probably you did not think about your WordPress security yet.
Like most website owners, you may also expect that your website will remain secure without taking any security procedures. The core software of WordPress is very secure which is monitored regularly by hundreds of experts. But there is a lot that can be done to damage your website. Even once a week, you need to ensure the security of your website to prevent any hacking attempts.
Since WordPress is the most popular CMS out there, so you always have to be aware of its safety. The risk of attack increases when vulnerabilities are discovered. The immense popularity of WordPress has made it a hacker's favorite. With plenty of features, spammers are always exploring the weakness of WordPress. No matter your website is large or small, WordPress security always remains the top concern which requires the frequent assessment of these attacks.
The DIY (Do It Yourself) features of WordPress have made the task of setting up a website easy for them who are not tech-savvy. Therefore, anyone can build a website or a personal blog for themselves. But they often forget about WordPress security which causes serious damage to their website.
If you don't close all the loopholes of your website, then the chances of being hacked by an expert hacker are always there. As the occurrence happens every now and then so don't think that it won't happen to you.
What Is WordPress Security?
Actually, security is not certain, it's a regular process that should often be managed. WordPress security refers to not only risk elimination but also risk reduction. Security is all about employing the proper controls which assist in addressing the risks and perils as they relate to your website. WordPress security also transcends its applications. The platform emphasizes more on hardening your local environment, internal processes and online behavior.
WordPress security consists of 3 major components: Technology, People and Process. Each of the elements has synchronous harmony with another. Technology would be useless without the people and their processes.
WordPress is open-source software, so there is a huge chance that anyone can access and modify anything within the codes. It clearly shows that your website is also under risk. If your site isn't secure enough, hackers can easily access your website's code and make unexpected changes. Even they can completely destroy the whole website which results in an irreparable loss.
If you rely solely on your website for your income, the situation becomes beyond description. So, with so many spammers attempting for unauthorized access on your WordPress website today, you may wonder whether WordPress is safe or not. Don't worry, the WordPress platform is inherently safe, although there is a caveat.
The security team behind the platform works restlessly to neutralize the vulnerabilities within the WordPress core. Security patches come with core updates which release on a consistent basis. WordPress has been patched more than 2,450 security vulnerabilities after their releases. Though the updated versions save your website from minor attacks, most of the time they can't prevent strong issues. When it comes to your website security, there are a lot of safety steps you can take to prevent vulnerabilities and hackers from affecting your website.
Why WordPress Security Is Important?
According to Google, in March 2017, over 50 million websites users have been warned about visiting a website which contained malware and suspicious elements. Google blacklists more than 25,000 websites for malware and around 55,000 for phishing each week. More than 90,000 attacks are happening per minute where both large and small sites are included.
If you have a WordPress website, there is both good and bad news for you. The good news is, you have a professional-looking website that is super-fast, user-friendly and informative. But the bitter truth is it is never safe from unauthorized access and attacks unless you take proper action. WordPress is more likely to be infected than the other platforms as it powers more websites. The extensive amount of the themes and plugins in WordPress is liable for this risk.
According to a trusted source, more than 83% of WordPress websites are at risk. WP Scan reported for over 4618 vulnerabilities to date.
It will be folly if you think your website is too small for a spammer to target. Anyone running a simple blog or small business is a target. In most cases, small websites become the main target because of the site owners as they are indifferent to their protection.
As mentioned earlier, a hacked website has a significant impact on your business revenue as well as reputation. There is a huge chance to lose your customers and it can even impact your search engine ranking too. Hackers can steal admin information, distribute malware to your users, and even install malicious software.
So it's time to ensure your website's safety and tighten WordPress security following some easy steps. Below I have detailed the in-depth procedures for making a website safe from unwanted occurrences.
1. Stay Up To Date
Unfortunately, millions of websites out there running outdated versions of WordPress, templates, plugins and still believe they are on the proper way of business success. And here they make the biggest mistake avoiding the updated versions. Most of them think either their website will break or the plugins won't work with the new version. Actually, a website breaks because of bugs in older versions. Expert developers never recommend core modifications. What they suggest are going with the latest templates and plugins.
Perhaps the easiest way to ensure your WordPress security is to keep your website up to date with the latest versions of WordPress, Themes, and Plugin. The latest versions come with additional facilities where advanced security features are also included. Though it sounds easy to keep your website updated, for website owners the task is hard and most often tiring. Because WordPress and its products update every now and then.
Currently, WordPress has over 150 different components happening at any given time. A recent statistics show that a very large number of website hacks came from outdated, versions of templates and plugins.
The WordPress team is working diligently to harden the core and add additional features to the newly updated things so they can stand against malware and attacks. Sometimes WordPress itself updates its platform to offer the users to enjoy more convenient features.
You will get a notification in the dashboard section if an update takes place. Updating software and related products are an effortless job. You just require a single click to update an installed product.
Besides, subscribe to WordPress Newsletters as they informed you about your website stats. For instance, The WHIP is considered the best source which ensures whether you are up-to-date on the latest WordPress and other security issues.
2. Limit Login Attempts
WordPress allows users to attempt to log in as many times as they wish. This causes your website to become vulnerable to several attacks like brute force. This makes the task of a hacker easy as they get the chance to crack the password by attempting to log in with different combinations. As he gets endless opportunities to try, it's easy to understand that he will definitely crack the password at any time.
So, how to get rid of this problem? The issue can be easily fixed by limiting the number of login attempts. It's very easy to complete the procedure. Just follow the below steps.
Step 1
First, go to the Add New option from the Plugin button and search for the Login LockDown plugin. It is the most used and trusted plugin to limit the login attempt and ensure your WordPress security. From here, proceed to install the plugin by clicking on the Install Now button.
Step 2
Upon installation, activate the plugin and click on the Login LockDown option from the Settings menu. On the next screen, you will see several options to limit your website's login attempts. By default, the plugin comes with the maximum number (3) of logins, retry time period restrictions and lockout length. If you wish to customize the options, just enter the desired amount and click on the Update Settings below. After it, an unauthorized user will no longer be able to make unlimited attempts to log in to your website. This will reduce the risk's percentage. Personally, I found the plugin very effectively to defend the hackers.
However, if you are not comfortable with installing plugins, you can use a web application firewall. Doing so, your website's security will be automatically taken care of.
3. Never Use The Default "admin" As Username
As a WordPress user, this is one of the easiest steps you can take to prevent your website. There was a time when WordPress used to come with admin as the default username. Most of the website owners did not want to change it most of the time. This made their website vulnerable and easier for hackers to take brute-force attempts.
When you use admin as your login username that means hackers don't have to crack your username. But thankfully the time has changed now. To prevent hackers WordPress has changed its term. Removing the default username automatically reduces the chances of Brute Force attacks.
Now the platform requires the users to choose a custom username when installing WordPress. Doing so will ensure your WordPress security. The platform offers 3 methods through which either you can create a username or modify it. You can create a new username for WordPress and remove the old one. To do this, create a new user at Users > New User and make that user an admin with all the access. After that, simply delete the old user named with the admin.
Also, you can modify username from phpMyAdmin or install the Username Changer plugin. Changing or modifying your username costs nothing and the installation process is super-easy.
Besides updating your username, check whether the password you are using is weak or not. There are some common passwords that can be cracked down very easily. Some of the most common and stolen passwords are:
123456
12345678
password
qwerty
123456789
12345
iloveyou
football
admin
Google has some great suggestions about how you can create a strong password. You can follow their suggestions or create a strong one yourself. You own a website which is a valuable asset. And it's your responsibility to keep it safe.
4. Always Use SSL Certificate
By adding HTTPS, you can harden your WordPress security. Many users misconstrued realizing that SSL hardly secures a WordPress site. Although it's another simple step to harden your website, this should not be taken lightly.
SSL refers to Secure Socket Layer certificate which is used by the popular websites out there like Google, Twitter, Facebook, YouTube, etc. It establishes a secure connection between users and servers. All the websites are now using an SSL certificate to provide the users with more secure browsing. Expert developers always suggest using the certificate on a website.
Thankfully, using SSL is becoming mandatory across online. Although SSL won't protect your website from malicious attacks, it will prevent visitors to your site from attacks and spying from hackers. If your website receives sensitive customer information such as credit or master card details, you must go with an SSL certificate.
SSL certificate mostly comes with the hosting service that you use for your website. Most hosting providers offer SSL certificates with their packs. So, when you purchase a hosting service, check the provider offers an SSL certificate.
How to check whether a website is using SSL certificate or not? Well, it's pretty simple. If a website has an SSL certificate, then it will have HTTPS in the URL instead of HTTP. HTTPS indicates the SSL certificate. So when you will use the certificate, the URL will be replaced to HTTPS from HTTP. This makes sure that the connection is encrypted and it is safe. If you are not still using HTTPS, contact with your hosting provider immediately.
Besides hosting, WordPress offers several SSL plugins. Verve SSL and Really Simple SSL are two effective plugins between them. Also, it's vital to ensure safety for your file transfers. FTPS and SFTP are two good options to transfer files safely.
5. Use Two-Factor Authentication
As I have said before, don't focus on risk elimination only. You should look for risk reductions, too. You have to take all the possible safety steps for your WordPress security. Even if you use strong passwords and custom your username, Brute Force can still be a problem.
If you didn't add two-step verification yet, it's time to go with it. It will assist to reduce the risk of attacks. Although we have been familiar with this system long ago, still it is one of the most effective processes to prevent unauthorized access.
2-step authentication requires entering a code whenever you log in to your website. The code generates automatically and sent to you via email or SMS. Without the code, none can access your website including you. Therefore, you can easily indicate unauthorized login attempts.
To keep your information and other credentials safe, you are already using two-step authentication for PayPal, Gmail, and other sites, so why not add it to your website as well. Let's come to the point of how to enable two-step authentication.
Adding two-step authentication is too easy. You can use several plugins for this. We recommend using Google Authenticator as it comes with advanced security features.
Step 1
Google Authenticator comes free of cost to an unlimited number of users. To install the plugin, simply search for the Google Authenticator plugin in WordPress. Upon installation, activate the plugin and customize it. For customization, click on a user account and set up 2-step authentication by generating a new secret key. Then tick into the Active box as marked above.
Step 2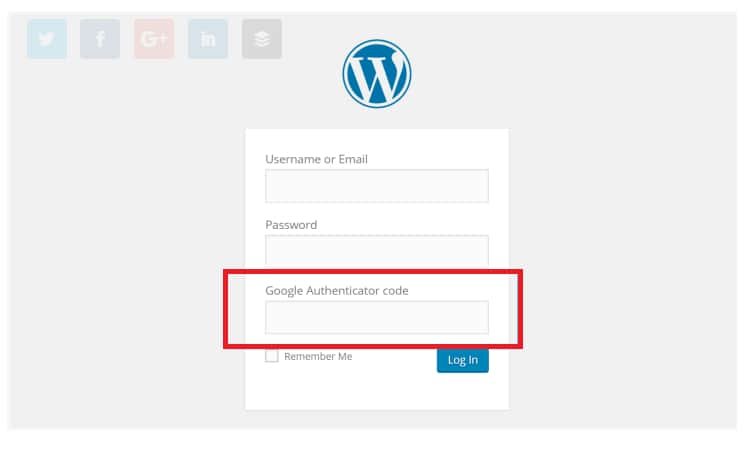 Once you are done customizing, logout from your WordPress dashboard to see whether the plugin works properly or not. If you are successful in setting up the plugin, your login page will show an additional option for Google Authenticator code.
Additionally, you can use other plugins in the same function such as Wordfence Security, and Shield Security for WordPress. With these plugins, you can add a second level of security to your website and extend the protection.
6. Harden wp-config.php file
WordPress keeps updating files to make the platform more sound and secure. The wp-config.php file is the most important file that contains sensitive information including your database files, secret keys, table prefix, and WordPress installation. If someone gets access to this file, he can get the login credentials from the database and damage everything you have built. So it is essential to protect the files from vulnerabilities.
Although the WordPress team is working hard to improve the system security, you need to keep updated with the latest WordPress versions, keep hiding from crackers and take additional steps to secure from your end. You need to take as many steps as you can secure your website.
Disabling PHP file execution is another effective way to harden your WordPress security is by disabling. For better WordPress security, you need to disable the PHP file. The task may seem easy to do, but doing it wrong results in making your website inaccessible. To do this efficiently follow the below steps. Add the following code to your .htaccess file to prevent wp-config.php:
<Files wp-config.php>
order alow,deny
deny from all
</files>
To add the code, save the file as .htaccess and then upload it to /wp-content/uploads folders. After uploading, change the permission of your file on wp-config.php to 640. Pretty simple, isn't it? Doing this will prevent your file from being accessed and you can stay tension-free.
7. Disable Editing Files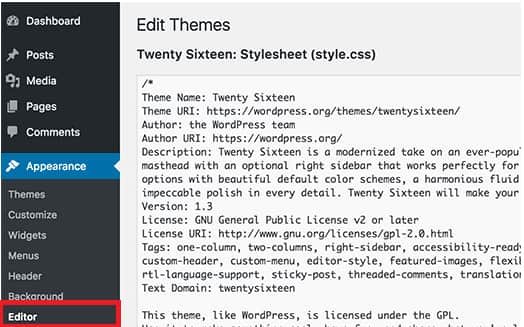 By default, WordPress allows you to edit template and plugin files by going to Editor (marked above) option. Let's get into the concept. After your website is up and running, you need to maintain your site endlessly to get rid of technical and bug issues.
Let's say you are not web-savvy. You have hired an expert developer for your website support and maintenance. Besides, you kept some other professionals as authors and contributors. That means several users have permission to access to your website. Although it's not a bad practice, multiple users and administrators can make WordPress security more complicated.
Giving all the users, administrator access sometimes creates complex issues. It is very possible that a user can easily modify the core codes of your website. To prevent this, you must give users the correct roles and permissions so they can't change anything. However, giving correct permission isn't enough, you need to go beyond to establish an advanced security layer. Hackers can change your files by going to Appearance > Editor. What you need to do is disable file editing so no-one can change a single code within your website. To ensure your WordPress security, simply copy and paste and add the below code in your wp-config.php file:
define( 'DISALLOW_FILE_EDIT', true );
Now even if a hacker has your login credentials, he can't change anything. This is the standard way to prevent hackers from executing malicious code on your site. After disabling editing your file, you won't be able to modify it via WordPress. Relax, you can still do editing within your templates using an FTP application.
Will These Steps Secure My Website?
If you take the above actions properly, your website is secure and safe by now. Although the steps mentioned above won't eliminate your website's risk completely, these will definitely reduce your risks. These are the standard actions you should take to strengthen your website. I have listed the most effective ways here which you should implement from now.
Finding the perfect security solutions for your website can be a tedious job, but you should know it's vital to your website's success. Improving your WordPress security is a routine task that you have to do regularly. You should never compromise with your website's safety.
sdfdsdfdsdsdfdf sdfsdf sdf dsfsdf